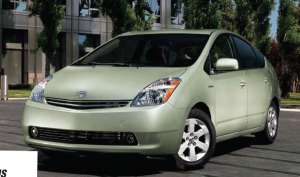 I went out to the dealer today to put a deposit on a Prius. Since nobody is negotiating prices, I figured there was no reason not to just go to the closest dealership.

Interestingly, the local dealer does offer a couple of interesting features – a free extended lifetime warranty on the gasoline engine and drive train, and free annual state inspections. Of course, nothing car dealers offer you is really "free", so I'm wondering if the "free extended warranty" comes with a mandatory service schedule or if the annual inspections are considered a good chance to sell you unnecessary service or sell you a new car?
These days you don't get much of a choice of anything – the dealers all say they could sell ten times as many Priusen as they get, so they don't promise any sort of timeline for delivery. The salesman did the usual upsell attempt by telling me if I went for the "Option 3" package instead of "Option 2" that I wanted, he could get me a car in about 4 weeks. If I insisted on waiting for "Option 2", I'd be looking at at least 6 weeks, and probably more than 8 weeks. That's ok, I'll wait – "Option 3" costs about $2K more, and as far as I can tell, all it really adds is a talking security system. I want "Option 2" because it adds the "Smart Key", which is a feature of Vicki's Prius I really love, and the "6 CD Changer", which is also an option Vicki has, but in this car that also means an external jack for an MP3 player or XM radio, and a bluetooth phone interface. It also includes a "backup camera", which sounds like a very expensive and not very useful toy, but one I'll probably wonder how I ever lived without.
Because the cars basically come as they are, you don't get much colour choice. But they ask anyway, so I said my first choice was "Silver Pine Mica", and my second choice was "Anything but red". It would just be too confusing to have two red Priusen in the driveway. Our neighbors have "his and her" Subaru Foresters, one red and one green. I think it would be funny if we got red and green Priusen.
The salesman seemed surprised when I mentioned the Smart Key as an outstanding feature. I'm surprised that he's surprised. For those of you who haven't already had your ears talked off by Vicki and me about Vicki's Prius, the Smart Key is a key that you never need to take out of your pocket or purse. As long as it's on your person, when you touch the door handle, the interior lights come on and the door unlocks, and when you touch the "On" button, the car starts. No fumbling for key or fob. I'm surprised the salesmen aren't shouting that from the roof tops – can you imagine a commercial showing a woman late at night walking through a deserted and dark parking lot glancing over her shoulder nervously and being able to open her car and start it without having to fumble inside her purse for a fob?
I mentioned the XM radio earlier. I'm not sure if I'm going to bother transferring the XM radio from my Corolla to the new car. I don't do the long trips twice a month like I used to, and the need for radio that's the same everywhere just isn't as great as it used to be. I only ever listen to "Laugh Attack", the Canadian comedy channel, and it's so repetitive it's getting boring. One of these days, I've love to get one of those Anywhere Map Travel Companion GPSes with XM weather, but it's hard to justify with the amount of flying I do. Until I do, I can do without it.