I've been a huge Garmin fan, right from my first aviation GPS (a Garmin GPSMap 195), through other aviation GPSs, a nuvi in the car, a StreetMap app on my phone, right through to the Forerunner 301 that I liked so much I bought another one when it started acting strangely because they'd been discontinued and I knew I had to act fast before they disappeared. But when I went to Tarifa, I discovered that having an open USB port and salt water don't go together well. When that Forerunner 301 died, I bought a Forerunner 310XT, which is the nearest equivalent.
The big plus for the 310XT are that it had a completely sealed case, and the big minus is that it follows the trend to more "watch-like" form factor so it doesn't work as well mounted on the front of the kayak. The lack of a USB port means that to sync it to your computer you need to put a little wireless device in one of the USB ports on your computer. It also uses a more modern heart rate strap that uses the semi-standard ANT+ instead of the completely proprietary protocol they used in the strap for the 301. And thus my hate starts.
So far, I've discovered the following things that make me hate this horrible thing.
It takes forever to start showing my heart rate. With the 301, I could take the strap, lick the contacts, put it on, and then turn on the GPS, and it will sync and start showing your resting heart rate within a few minutes. With the 310XT, you can repeat those steps, and you can wait literally half an hour, and it won't show your heart rate. Start exercising, though, and almost exactly 5 minutes later it will start showing your heart rate.
Syncing with my computer is a pain in the ass. I don't know if this is because I'm using a Mac, every single time I want to sync with my computer, I have to:
Restart Garmin ANT Agent
Choose "Pair New Device" on Garmin ANT Agent
Turn pairing back on on the 310XT because it will have turned itself off
Wait several minutes for the wireless things to sync up
If I do any of these steps wrong, it will get into a state where Garmin ANT Agent is still searching for a new device and the 310XT is in "Data Transferring" mode, in which case you have to shut down both the device and the program and try again. Also, sometimes you'll need to accept the pairing request on the device. Also, I can't sync with both Garmin Connect (their web based tracking system) and Garmin Training Assistant (the desktop tracking system). Compare and contrast with the 301, where all I had to do was plug in the USB cable and then I could sync with both the web app and the desktop app in about 30 seconds flat.
Their tech support SUUUUUUCKS. Ok, so a while ago Garmin Connect said I should download a new program to replace Garmin ANT Agent called Garmin Express. So I did – but because I'm not an idiot, I didn't remove Garmin ANT Agent. And good thing, because you go through Garmin Express and it pairs with your device (which is every bit as painful as with Garmin ANT Agent), starts downloading your data, and says "While we're downloading, connect to Garmin Connect" and wants your userid and password. But then it gives an error: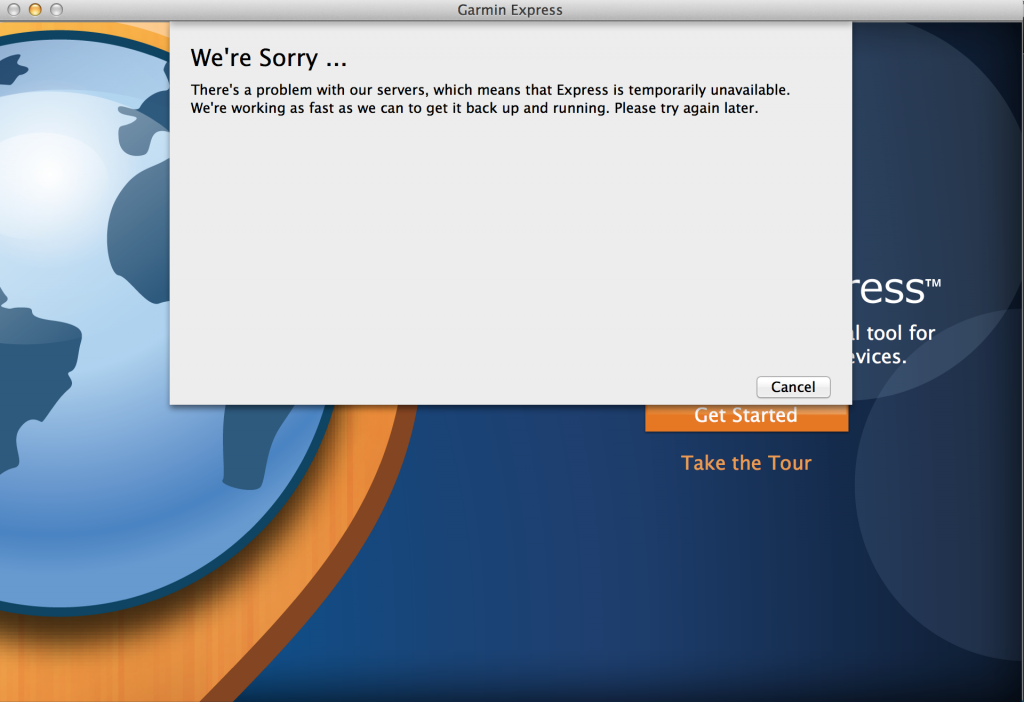 Note that it says it's "temporary", but it's been happening for a week. That's not "temporary" in my book.
I wrote to Garmin's tech support about this "temporary" problem, and the response I got back tells me how to pair my device (note that the message happens after you've paired), and tells me to click on an icon and choose something from an menu, but neither the icon nor the menu exist on this software. Which makes me wonder if the person answering my question read the part where I said I was on a Macintosh or the part where I gave the full text of the response I got, or the part where I said I got that *after* it paired and started downloading. So Garmin's tech support isn't exactly a reason to keep using Garmin.
So at this point, I'm looking to find either a device or an add on for my iPhone that does the following:
Displays heart rate, speed, time, distance
Has some training assistance like being able to set up interval workouts, but Garmin's virtual training partner thing was kind of cool too.
Mounts on the front of my kayak or the footstrap area of my surf ski
Doesn't die in salt water
Syncs with some sort of training tracker, mapper, etc.
Has a heart rate strap that doesn't wait until you're 5 minutes into your workout to start showing your heart rate.