So anybody who follows me on "athletic" social media (Strava, Garmin Connect, etc) probably knows I have a new wrinkle in my winter training on the KayakPro ergometer. I bought their new "Genesis Port" bluetooth adaptor and a subscription to Kinomap. This allows me to "race" against geo-referenced videos. Of course, the first thing I did was upload a bunch of my own race videos (https://vsuq.adj.st/userName=paul_tomblin?adjust_t=e3qslbp&adjustdeeplink=com.kinomap.training%3A%2F%2F%3FuserName%3D?paul_tomblin&adjust_redirect=https://www.kinomap.com/en/u/paul_tomblin/videos) – I figured they're the best training because they're the right length and speed. Grayson Bourne, the president of KayakPro (and former(?) British kayak champion) has uploaded a bunch of his own videos as well, but I didn't want to challenge them, because he's a LOT faster than me. Also his videos tend to be shorter than mine.
Also, another paddler who makes YouTube race videos that I follow on social media goes by either "Szechung Kayaker" or "Chris Sze". He lives in Bishops Stortford England, and I'm intensely jealous of how much racing they do there, even if it is on narrow canals in narrow little sprint boats. I was watching one of his recent videos and it suddenly struck me that
He's paddling a pink KayakPro boat
One of Grayson's videos is of a pink KayakPro boat in Bishops Stortford.
Hmmm. I wonder if Grayson just used on Chris's video? I definitely had to try that route now. It's only 5.6km, which means it's pretty much an all-out sprint, but I did a couple of long distance workouts this weekend, so why not?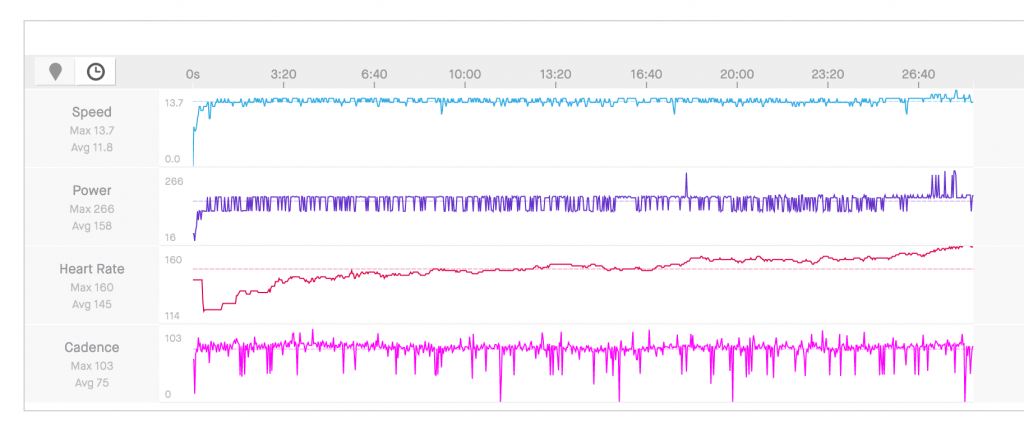 When I'm racing against my own videos, I'm the only person whose ever done them. Which is fine, but it takes out some of the competitive aspect. This one had a lot more people on it – I think it was 9? Certainly enough to make it a huge challenge.
Right off the gun, there were two people who jumped right out front – literally 100+ meters ahead before the first kilometer was over. There was one guy who was more like 20 meters ahead, and one guy who was 20 meters or so behind. Right, I thought, my work is cut out for me – just keep between these two guys and hope they tire before I do. Very much a familiar race tactic for me, except there was no wake to ride.
Like I said, I was treating this like a sprint, so instead of the 10.6-10.8 km/hr I usually make on the erg (and I don't think it's calibrated, because that's on race courses where I usually average about 10.4-10.5 km/hr), I was making 12.2 km/hr. It was hard, but I was counting down the meters to the end, as well as watching those two names and the meters distance to each one. The guy ahead moved further out, reaching somewhere around 100 meters by the turn around, while the guy behind me got closer and closer, coming within 9 meters in the same distance.
But with about 3 km to go, the guy ahead of me must have slowed down to catch his breath or stopped to have a drink, because suddenly I was ahead of him, while the guy who was behind me dropped a bit further back to about 14 meters. I fooled myself into thinking they'd both gotten tired, but I was already giving it everything I could. The only thing that thought did was prevent me from slowing down, because I really wanted to slow down. But they both got their second wind or something and both of them passed me. I contested that sprint like I battling side-by-side with Dave W at a NYMCRA points race, but both of them beat me, the one who'd been behind most of the time beating me by 1 second.
I like this idea of doing shorter, harder sessions on the erg. I've heard there's a way to use Kinomap for interval training, I'll have to look into that as well. I know I work harder in intervals if there are other people with me, so maybe this will help.