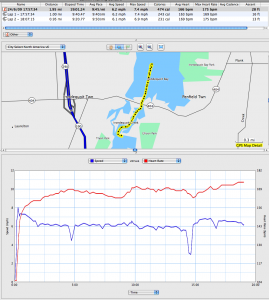 I don't think I wrote about last weeks, mostly because it was ghastly. Pelting rain, slow conditions, low turn out, and a semi-broken rudder. Oh wait, yes I did.
Yesterday's was different. Ok, my rudder was still semi-broken. But it was the first hot and sunny night of the year. Big turn-out. While I was warming up, I went out on the bay to find that Paul D and I were dealing with this strange cross wave caused by wakes – it lasted for my entire trip up and back, nearly the full mile of the race course. There was also a lot of floating crud – much of it that algae that floats up during the day and sinks at night.
Once again, my over eagerness meant that I was warmed up early and had to start first. I don't know why that always happens. Anyway, I had a really good start, and managed to keep above 7 mph for nearly the first minute. In the past, I've been alarmed by that speed and slowed down a bit to save more for the last half. Maybe I should have. The bay was flat as a real pancake, not a Dan pancake. But first things first – I had to pause in my paddling and lift the rudder to clear the crud that I'd picked up leaving the channel into the bay. By the time I rounded the buoy, I could see others who started behind me.
Coming into the split, I once again had to stop to clear the crud from my rudder, and then dodge a bazillion or so people, but my split was a respectable 9.38, compared to my previous best of 9.40. So far, so good. I was through the narrow bit and about the 1.4 mile point and wondering why it was so hard to maintain a 5.9 to 6.0 mph pace when it suddenly stuck me that I should be hugging the shore to stay out of the current. I immediately got a good increase in speed, and a sudden desire to slap myself in the head for forgetting this.
I made the turn and made another rudder clearing stop. I was making good time on the down stream – my speed was up over 6.5 for most of the way, but I had to clear my rudder again. And instead of making a good strong finish, I was actually kind of dead – which is why I said before I should have gone a little slower at the start. Another big crowd at the finish area, and I had to dodge a bit instead of making a straight run in.
My finish time was 19.00, a new personal record. On the other hand, Paul D was 2/100ths slower than me at the split, but 3/100ths faster than me overall, indicating again that my pacing wasn't good.
So things to work on for next week – pacing, and maybe running with my rudder down half way so it's at an angle, to see if it sheds the crud.