In the 13-odd years I've been racing kayaks, I've come to rely on having my speed and heart rate displayed in front of me to help with pacing, both during training and racing. And usually that's been done with the combination of some model of Garmin Forerunner GPS "watch" and a heart rate chest strap – starting with a Forerunner 301 (which nobody except Garmin would call a watch) and the strap that came with it, going through several generations of Forerunner and occasionally replacing the strap because Garmin uses these tiny little screws to hold in the battery cover and they strip easy. I've got 2 or 3 of them in my drawer with stripped screws. A few years ago I replaced my Garmin chest strap with a Wahoo TICKR and it worked great. Not only does it have a battery compartment that you can open with a quarter (or the corner of your CrashTag) but it also broadcast on both ANT+ for your watch and Bluetooth so you could display it on your phone (with the help of the Wahoo Fitness app).
Fast forward at bit. After a couple of years of the TICKR working great, I lost it. No idea what happened to it, it's not in any of the places I'd normally put my strap between workouts, or any of the places where Vicki would throw it on "cleaning lady day" to get it out of the way, nor even any of the 3 gym bags or rolly bags that I normally use for travel. It just vanished. I bought a new one, which has been redesigned and is now in "stealth black" instead of blue and white. And it just never worked right – it displayed ridiculously high numbers all the time, both on my watch and on my phone. I returned it for a new one, and the same problem. After a lot of trouble shooting, I got Vicki to put it on and it reads right on her, so I know it's not the strap. But meanwhile I've got no reliable heart rate.
So I bought a Garmin HRM:Dual, which is their newest heart rate strap – the "Dual" meaning that they too now broadcast on Bluetooth as well as ANT+. It worked pretty well for about a year on ANT+, but it's *never* worked right on Bluetooth, at least not on either Wahoo Fitness or Kinomap. Ok, Wahoo Fitness might just be that the Wahoo app doesn't work right with Garmin straps, and Kinomap is… quirky. Also, in the meantime I've also got a Garmin Fenix 6X Sapphire watch – it does everything the newest Forerunners do, and then some. And it reads me heart rate 24×7 on my wrist. Which is great, except for kayaking I really need to put a watch on the footstrap of my boat so I can see it. I can hardly see something on my wrist when it's flashing past my eyes 40 times a minute.
A few weeks ago my HRM:Dual started giving garbage results towards the beginning and end of workouts. The beginning I can understand, sometimes it takes time to work up enough sweat that it makes good contact, even if you remember to spit on the pads before you start. I have some electrode gel I bought a few years ago and that helped a bit, but I was still getting garbage numbers part way through a workout. I replaced the battery, and it didn't help.
And that's when I started a game I call "Permutations and combinations". Using my Fenix on my wrist and my old Forerunner 920XT on my desk or on my boat's footstrap, I started experimenting. I tried the TICKR, still garbage (shows a number, but the number keeps rising up to around 122 while my Fenix and manual counts say I'm at 44), HRM:Dual, still garbage (says it's connected, doesn't show numbers). Replaced both batteries, both still garbage. Used electrode gel, both still garbage. Tried the HRM:Dual with the strap from one of the older Garmin heart rate monitors – hmmm, seeing some signs of life, but still not reliable numbers. Eventually I tried shaving the strip of hair on my chest under where the strap goes. And then I got good numbers on my HRM:Dual. At least on ANT+, still nothing on Bluetooth. But I did a workout yesterday with the HRM:Dual paired with the 920XT on my footstrap, and the Fenix 6 on my wrist, and both numbers stayed pretty amazingly in sync.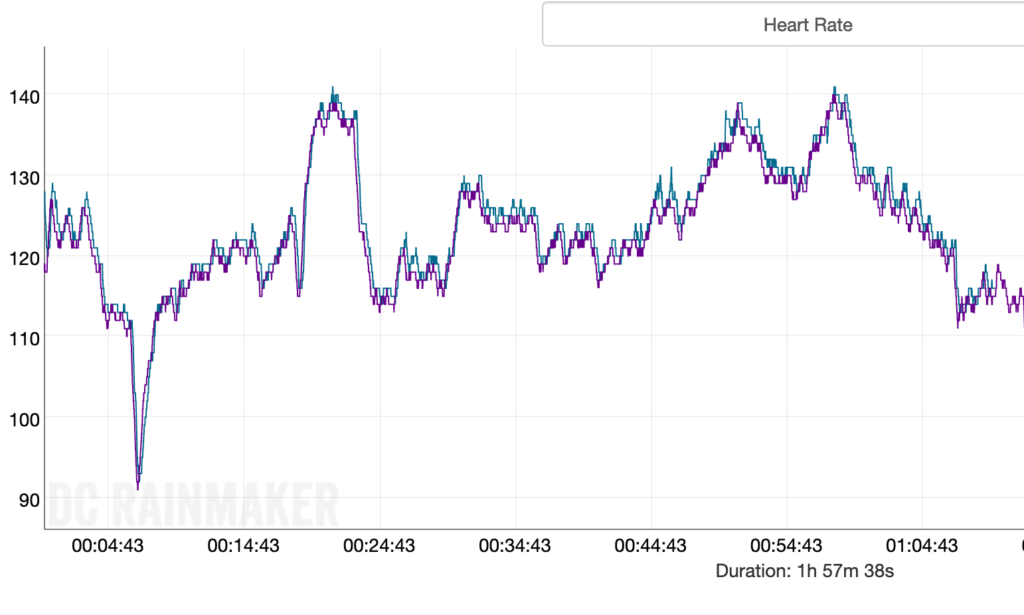 And I guess that's where I'll leave it – I'll pair the HRM:Dual with my Fenix 6 again, and use the Fenix on my footstrap. And try to remember to shave that strip on my chest when I shave my head.