As anybody who has been watching my videos knows, I'm really in love with 360 degree cameras these days. Specifically I'm in love with the Garmin VIRB360, which is a shame because it doesn't love me back. The camera hasn't been updated in a number of years, and the image quality isn't as good as some of the newer ones. And the VIRB Edit editing app frankly kind of sucks, except for the telemetry overlay. To the point where I sometimes put the telemetry overlay on, then export it, and bring it into Final Cut Pro to do the rest of the editing. But more importantly, it's an orphan and you can't get parts for it. I got the last replacement lenses for it after my boat blew off my car in a parking lot after I'd attached the camera, and I had to get them from a shop in Calgary. I saw some replacement lenses on eBay and they were going for over $250!
The VIRB360 has three things which no other 360 camera has:
Telemetry capture, including not just GPS in the camera, but also heart rate via ANT+ or Bluetooth. And other ANT+ or Bluetooth inputs as you like. Lots of cyclists like to connect their power meters or cadence meters, for instance.
An external power connector that's waterproof, or at least water resistant enough for kayak racing.
And related to that, the ability to record for hours at a time without overheating. GoPro struggles to make a camera that can record for the full life of the battery in a single go, telling anybody who complains that some huge percentage of their users only record for a few minutes at a time anyway and it sucks to be you.
So while I'd like to get the higher image quality and better editing software of say, an Insta360 X2 or whatever GoPro has announced they're going to be announcing this year, I'm kind of stuck with the Garmin.
Slight aside here – a 360 camera has two lenses and two CCDs. The process of putting the two images together is called "stitching" and can either be done in the camera or it can require desktop or mobile software to do it. What comes out is an equirectangular image that a 360 degree viewer or editor can do the fun pan around stuff in.
The Garmin's "normal" mode is to stitch in the camera and produce a 4K (3840×2160) equirectangular image on the microSD card. But there's also a "raw" mode where you have two files on the microSD card, and VIRB Edit stitches them into a 5.7K (4992×2496) equirectangular as it sucks the image in from the camera/microSD card. So as an experiment I did a recording a couple of days ago in the raw mode. The stitching wasn't too terribly time consuming, and I did my usual hacked up edit just and exported the file. It's a little bigger – about 1.17 GB per minute, versus 0.92 GB per minute for a 4K one I did a few days previously. Then I uploaded it to YouTube.
And this is where it gets frustrating. The 4K one took about a day or so to process on YouTube before I could see it in full res. It says it's 4K, and the text and telemetry gauges look very sharp on a 5K monitor.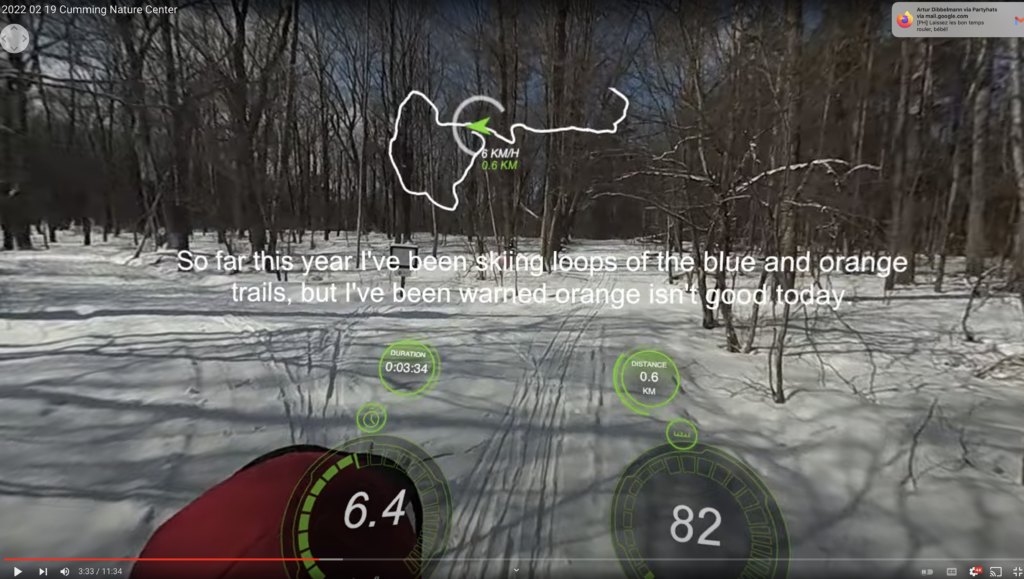 But the 5K one said it had finished processing a few hours after uploading, but on a 5K monitor at full screen, it says it's only 1080 resolution, and it looks like it's only 1080 resolution.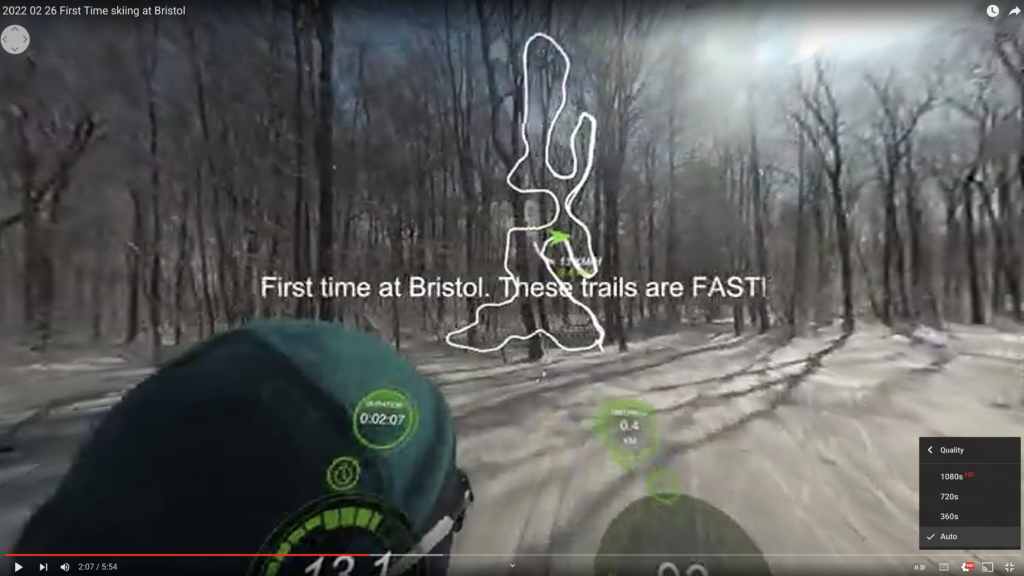 The text and the gauges look like crap at full screen.
So it looks like at least as far as YouTube goes, going for a higher resolution was a complete waste of time. (BTW: I can't try Vimeo because it says one video is more than the free tier total upload limit.) So now I'm looking to see if there are good 360 video players for embedding in WordPress. Expect to see some test posts here shortly.