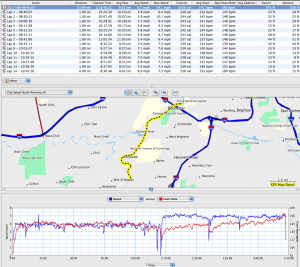 Today Mike and I met early at the Genesee Waterway Center. I didn't have a firm plan in mind, other than to go long and slow. Well, Mike's plan was similar, except for the slow part. Last time I did a long paddle here (30 May 2009), I went upstream at about 4.5 mph and downstream at about 6.7 mph. Mike is a much faster paddler than me, so he started off at about 6.3 mph and invited me to grab his wake and ride it. I grabbed it and held on as best I could, although I had to ask him to slow down a touch. My heart rate was pretty constant at around 140-145, as opposed to the 126 from that time. Mike asked me to pull for 5 minutes at the 20 minute point, the 40 minute point, the 50 minute point and again at the 60 minute point. That let the speed drop and my heart rate rise, but the good part was that when Mike said he was ready to come to the front again, I could stop paddling and grab my water tube and suck down a couple of gulps.
I was expecting another 10 mile paddle, since that's how far we go when we go around the bay. So when we went through the 5 mile point on the way up, I figured "ok, I'm good for 12 miles". Then he went through 6 miles. That's when I spoke up, and he said he was planning on turning around at the 7 mile point. "Oh oh", I thought. On that previous paddle, I'd only gone up 4.5 miles, so I got to see some of the river I'd never seen before. But I could feel the fatigue creeping in, and it was getting hard to keep right on his stern.
On the way down, I tried to paddle beside Mike, but once again his speed was too much for me. He was going around 7.0 mph, and I had to grab his wake once again. I noticed that we hit the 9.77 mile mark in 1:36, which is the time it had taken me at the Armond Bassett race to do 9.83 miles. Since my average pulse at the race was much higher, I have to assume that if I'd paced myself better in the race I could have done much better. Nearing the 11 mile point, which is about where the Armond Bassett race turned around (because the race started out by going 2 miles downstream, then 5 miles upstream, then 3 down) I could see two paddlers approaching. I realized pretty soon it was Jim Mallory and Jason Quagliata, two of the best paddlers in the area, if not the country. They turned while we were still a few hundred metres away, and started heading downstream much faster than us. They weren't working hard, and you could see them pausing frequently to talk to each other, but they were still leaving us in the dust.
The last three miles saw me making a series of deals with myself. "Come on, just keep this pace for another mile, and if I have to, I'll take a short rest". "I've already gone further than I've ever gone before. so there would be no shame if I blew up now, but I'll just keep going as long as I can". Actually, some of the deals were pretty similar to the ones I made myself on these same three miles when I came here last August and I'd done 6 miles in 1:27. (Wow, 6 miles in 1:27 versus 14 miles in 2:13 – what a difference a year makes.) My heart rate monitor shows that my heart rate was going steadily up in that last three miles, which is partly due to the heat, but also fatigue. But at the end, I even managed a bit of a sprint – just call me Mark Cavendish.
Afterwards, Mike and I came back to my house and watched the excellent Mt Ventoux stage of the Tour de France. My lovely, talented and far too giving wife Vicki brought us bagels, cream cheese, lox and strawberries just to make it perfect. Man, Lance Armstrong still has it, doesn't he?