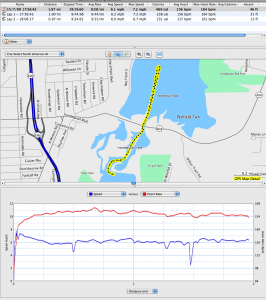 It should have been a good night. There was almost no wind and no waves on the Bay (except the inevitable boat wakes) and the creek was still fairly high. But as soon as I got in my boat I felt "off". I don't know if I ate too much before hand, didn't eat enough, or just wasn't recovered from Saturday, but I almost didn't feel like racing. I did a good long warm up, mostly slow but with a couple of "pick ups" to raise my heart rate to see if it would make me feel right, but it still wasn't good.
To try to spur myself to try harder, I lined up behind Paul D. I started 30 seconds or a minute behind him, and I made an ok but not great start. Half way to the first buoy, though, my speed was dropping under the magic 6.0 mph, in spite of the low wind. I could see Paul pulling away from me even by then. After the turn, my speed increased a tiny bit, but it still wasn't great, and Paul D was pulling away all the time. My spilt was horrible, 9.55 (compared to 9.50 last week and 9.43 the week before), and once we got into the twisty bit I mercifully lost sight of Paul D disappearing into the distance. I also noticed that I was ducking my head down more and more to try to look over the tops of my sun glasses, so I had to stop and take them off, which cost me a few seconds. At the turn, it was obvious just how much I'd lost to him, but the last half mile felt the worst. My speed felt horrible, and I wasn't able to put on any speed for the finishing straight, and I couldn't even see Paul D up ahead he was so far beyond me.
At the finish, my time was 19.12, which isn't the worst I've done, but it's the worst I've done in a month, which is a disappointment, especially since it should have been a PR kind of day. My disappointment was both lessened and increased because it turns out that Paul D was having a blistering time, and knocked about 20 seconds off his personal best. I don't know what he was doing for that week and a half he wasn't coming to team events, but whatever it was it sure worked for him. So I guess I'm going to have to improve a lot before I can start thinking of him as a rival again.