Now for the big final day. We definitely had wind. We also had cold. The previous days had been warm and sunny and still. Now we had air temps that were probably in the 50s, a howling wind, and overcast. The water looked dark and forbidding. There was a fair amount of small chop and a bigger swell underlaying that.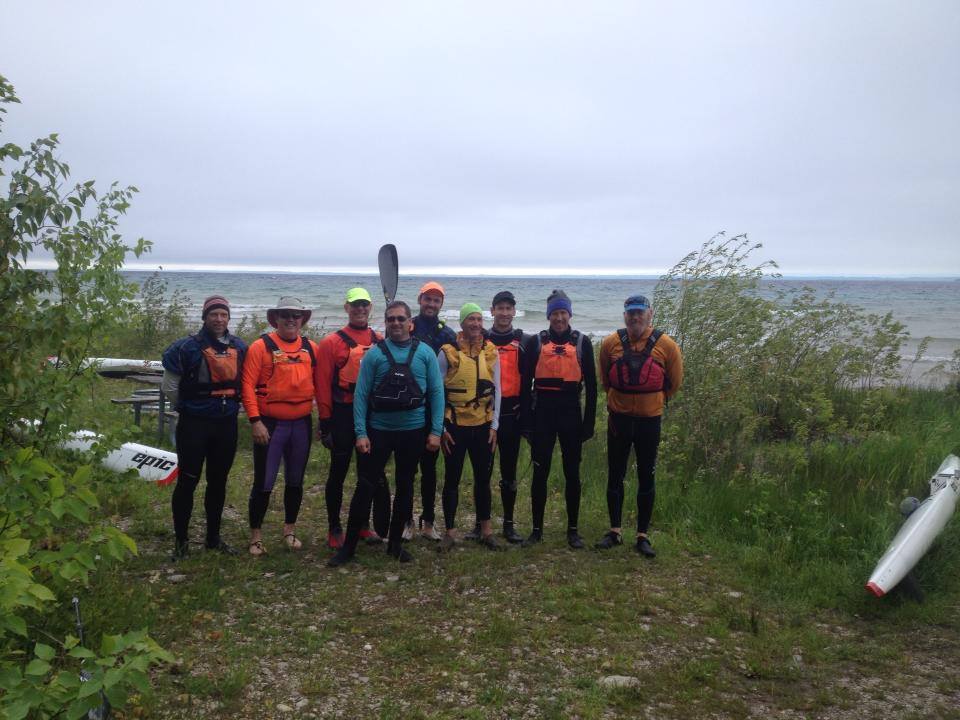 It seemed to take forever for everybody to get ready. Part of that was probably because with the tough conditions everybody wanted to make sure they had every last thing, but also I think there was some reluctance to actually get going. Our two least experienced paddlers, Mark and Mike, were put in the most stable boats – an Epic V8 and a Stellar S18S, and Greg convinced Bill to ditch the V10L he'd been paddling yesterday and take a slightly more stable V10. In hindsight, maybe he should have been in a V10 Sport.

With the strong wind, it was really hard to keep everybody together. Mark and Mike launched first, and Mike started heading in generally the right direction but Mark was heading more upwind. I know from experience of being nervous in waves that the guy heading upwind was probably doing it because he didn't want to be quartering the waves as he would have been if he'd headed in the direction we'd intended to head. Rob headed out to help one of them and Erik headed out to help the other one. I got out about far enough to head for the bouy and looked around and only Eric (not Erik) was near me. I said "let's go" and headed downwind. I caught a couple of really great runs and some smaller ones, but soon realized I had nobody around me. I circled back to get back to where some of the others were, and as I turned upwind I fell in. Fortunately I've got a good remount, and I got back in with no problems. I wasn't as cold as I'd feared I would get, either.
I paddled back upwind until once again I was near Eric and Rob and Mike. Once again I turned downwind and caught some good runs, only to realize there was nobody within shouting distance of me. So I turned back again, and this time managed to get back to this small group without dumping. We could see three paddlers in tight into shore, which didn't make sense because they would have been dealing with breaking surf and having to keep a big angle on the waves to keep a course away from the point. We also heard that Mark had been spotted heading back into shore after having trouble remounting, and Erik was escorting him in. Nick fortunately had seen Mark's difficulty so he hadn't left the put-in and he was able to pick Mark up.
The pattern of getting some great fun runs, realizing I was miles ahead of everybody, and then a slow circle back, and then turning down for some good runs continued several times. I was much less nervous than I used to be in these sorts of conditions, and I kept increasing how far I would get ahead of everybody before I'd turn back.
After rounding the point where the bouy lived it briefly got very calm. Erik and Bill showed up – Bill had been having problems staying upright and had done several remounts. He was really good at it and he hadn't been getting cold. Erik basically dropped Bill off in the calm and went back to look after other people, so I decided to stay with Bill the rest of the way. Which turned out to be fortuitous because it got rough again, and Bill dumped a few more times. I wasn't needed to help him remount, but when you're remounting I always think it's good to have somebody within communication range in case you do get into trouble.
Rob had stayed with Mike the whole way, and Eric kind of orbitted around them, so they all made it through with no problems. I don't think any of them swam. Considering Mike's level of experience, I have to give him mad props – he did better than I would have done two years ago.
I didn't really see what happened to the others, especially the ones I'd seen in near shore, but eventually everybody got to the finish and then the sun came out and wind died. But by then it was time to head home so we went back to the lodge and Vicki and I packed up and left.
Another long drive, and I was ready to conk out, except I'm so tired and sore from all the driving and paddling that I can barely sleep.
Well, the vacation is over, and it's back to work. Bottom line: it was a lot of fun, a great group of people, some really fantastic instructors, and I hope to do it again.