I'm trying to remember when was the last time I really skied. I had pretty much quit by the end of university in 1985, because skate technique hurt my knees so much. I know I had one winter where I got out 4 or 5 times sometime between Shani and I breaking up and me moving south, so I guess 1992-3 or sometime around then? Then a few years ago where I tried to ski at Mendon Ponds with my now ancient ski equipment and my boots (bought in 1981 at great sacrifice) both completely separated from their soles within a few hundred meters of the parking lot. a
Last year I found out about Cummings Nature Center, and the fact that they rent there. I tried it out once and immediately fell back in love with skiing. Unfortunately I discovered it pretty late in the season so I didn't get back out. So I've been itching for a chance to go out again this year. First we didn't have snow, then we got fresh snow and the temps immediately plummeted to around 0F. Not good for starting out. But today the weather finally cooperated. It was 26F and lightly snowing when I set out for the nearly hour long drive down to Cummings.
Driving for an hour meant the return of the painful butt. I'm still in making rounds of doctors to try and get some relief of that, whatever it is, and that means I spent half the drive trying to sit only on one buttock or lift myself out of the seat.
By the time I got there, it was snowing quite a bit harder, although the roads were well plowed. I was hoping they'd still be plowed when I finished. I got there just on the dot of 9am and there was one other car in the lot. They were skiing but not renting (I could tell because they'd skied from the parking lot to the chalet). The rental form asked what level skier you are. They didn't have a spot for "I used to be quite good, but that was before you were born", so I ticked "intermediate". I was sure that when they saw that I'd put my e-mail address at xcski.com they'd accuse me of giving a fake address, but they didn't say anything.
The equipment was quite good quality and new this year they told me. The new bindings are so much better than they were when I was a skier. And the ski lengths aren't multiples of 5cm for some odd reason. I got a pair of Madshus Actives at 207cm because I used to race on 215s and I was a lot lighter back then. The wax less system felt like a combination of steps and skins. It worked pretty well at first.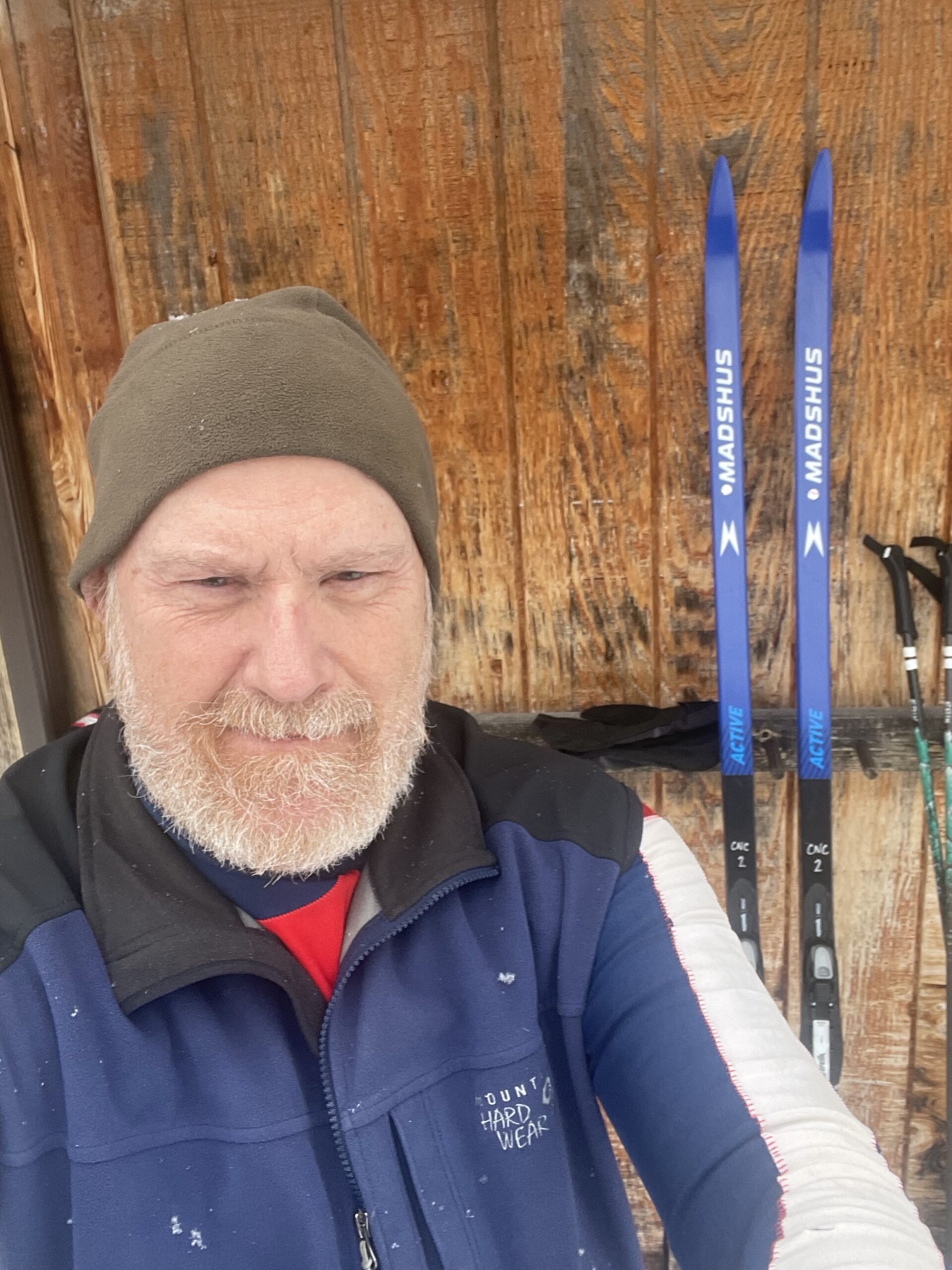 Felt like old times. Set off and hey, my diagonal stride isn't too bad in the grooves, but the muscles you use to keep your skis in a straight line when you aren't in the grooves, or to skate around corners, or snowplow turn on a downhill, are all completely atrophied. Oh well, I'll get this back.
My heart was pounding pretty hard, but the values displayed on my watch were ridiculously low. Stupid heart rate strap had had problems last time I'd erged. I didn't think it had been long enough to need a new battery, so I hoped it would start reading right after I'd worked up a sweat. I figured it was probably in the high 140s or more because I'd had to stop to catch my breath on a couple of climbs.
I did the yellow trail out to the blue and did the blue loop, and when I got back to the yellow I thought "I don't need to go back to the lodge yet" and set out around the blue trail again. Even though it was only 1.5 or 2 kilometers, it felt like a victory. And when I got to the junction with the orange trail, I took that one. Half way through the orange trail I got a notice on my watch that the heart rate strap had a low battery. I stopped to take it off, hoping that the watch would revert to the built in optical heart rate. I'm not sure what it did, because it was still giving me numbers around 100 bpm when the pounding in my chest was telling me it was actually over 140. I wonder if the strap was continuing to broadcast crappy data in my backpack.
When I finished the orange and blue, this time I took the yellow trail back to the lodge. I didn't note the actual distance, but I think it was somewhere between 4.5 and 5.5 kilometers. My goal for the day had been to make it for 5 kilometers total, so I was feeling pretty good. And after having a brief sit down in the chalet to drink some water and eat a banana I'd brought, I was feeling good enough to go out and do the blue trail loop again.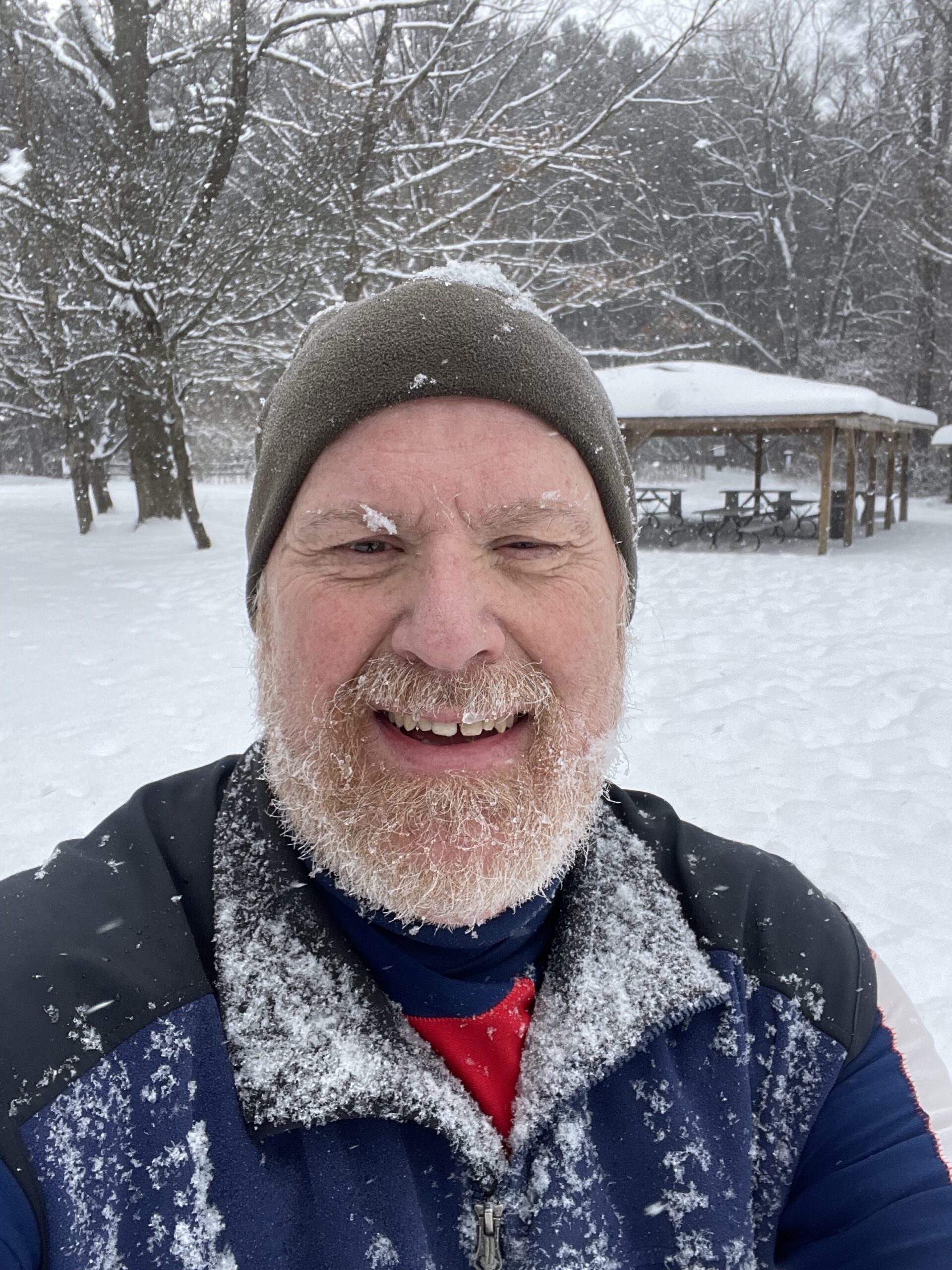 This time, I think the wax they'd put on the skis to improve the glide had worn off, because my skis stopped abruptly instead of gliding a few times, once pitching me onto my face. I had to stop a few times to do the old "scrape the ski over the edge of the other ski" trick to get my glide back. I was also definitely tired now. But my heart rate was now showing up properly on my watch, and I was seeing numbers in the very high 140s and low 150s.
I finished up back at the lodge with a total of 6.6 kilometers. Goal exceeded! But I was really done – I don't think I could have done even the yellow loop again. So I returned my rentals, suggested they renew the glide wax, and headed off to the car. It was barely 10:30. And it was snowing quite hard.
The first part of the drive was plowed but now bare, but after taking it easy on that I soon got back to bare road and headed home. Once again, the sore butt problem "reared" it's ugly head but it was an excuse to stop for a Coke at least.
I can't wait to do it again.